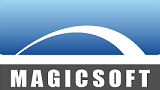 Increase your sales by 300% with the Magicsoft CRM Solution
We found that even when we generate leads in large quantity for clients, there is no proper system in place to convert leads into customers. Hence Magicsoft CRM Solution is conceived to create sales for SMEs, at a time when economic situation is not favorable and cash flow is critical for survival.
Running a business in Singapore is TOUGH
Not enough new business

New business strategy is almost entirely reliant on referrals

Leads cannot turn into sales

Salespeople forget to follow up with leads

Customers are one-time

After all the prospecting & work, you only earn their business one time
Our system
Strangers

Traffic generation : Search/Social media

Visitors

Leads conversion : Website Landing pages/ forms

Leads

Sales development : CRM software

Customers

Customers' relationship management:CMR software / Social Media

Promoters
Features of Magicsoft CRM System
Digital automated salesperson
Technology today can do so much for you. Why not tap on it? Without having to pay for extra headcount, get a digital salesperson who can generate leads for you, tell you when to follow up and remind your prospects of you. You just collect money.
Robust tracking
With Google analytics, phone forwarding and CRM tracking in place, you know exactly where each lead come from, the precise ROI of your marketing dollars and how to increase your leads from each channel. The data collected allows us to improve the results month after month.
Magicsoft CRM Solution For CRM software portion. (limited period only)
Website Design with landing page setup
Search Engine Marketing (SEM): 5-10 Keywords
Social Media Marketing (SMM): 1 recurring + 2 Seasonal Campaign
Email & Phone Enquiry Tracking & CRM software
Our process
Understand your business model and zero in on the digital marketing strategy that reaches your target audience out of the mass market.
Setup Google Analytics, email and phone forwarding system for leads tracking and collection.
Setup conversion-focused website to convert traffic to leads.
Compile the leads into CRM system to do follow-up.
Instalment option available
By hire purchase with attractive interest rate at 3.5%
By leasing with attractive interest rate at 3%
By loan with attractive interest rate at 3.5%
Bundle with hardware and software
If you are looking at growing your sales by 20% or more, fill in the form now!
For our CRM service agreement as well as term & conditions, please refer to here.